Frank Renton visiting Paris Brass Band
Last Sunday, Paris Brass Band had the honor to welcome Frank Renton for a workshop. Besides that match between England and Australia (for Rugby World Cup, in case you didn't watch the news for a while), Frank was here to share some of his technique and experience to the brass band.
The workshop was just a day, but it was intense and in case some musicians were still thinking about their last holidays, it was a good way for them to be back at work! On the schedule was some work on sound, but also English humour and French wine! What a blast!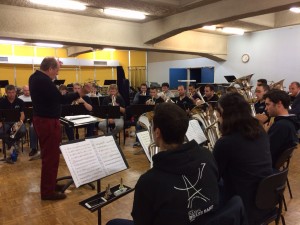 Sharing about music, the way it is practiced in different countries but also friendly atmosphere are what makes brass band culture such a perfect thing.
Thank you Besson Musique and thank you Frank, you're always welcome in Paris.