The Conductor and Director of Music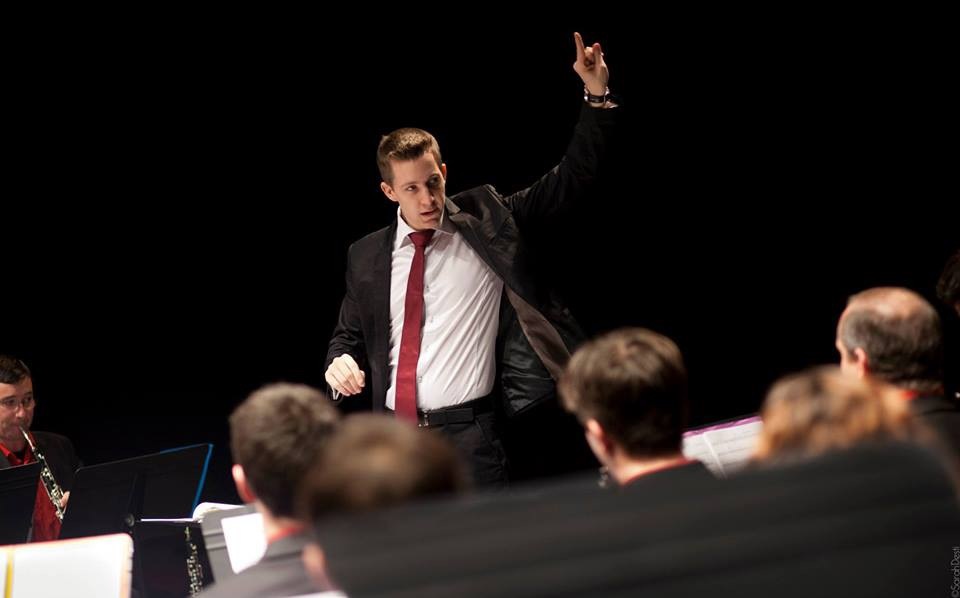 THE CONDUCTOR AND DIRECTOR OF MUSIC
Laurent Douvre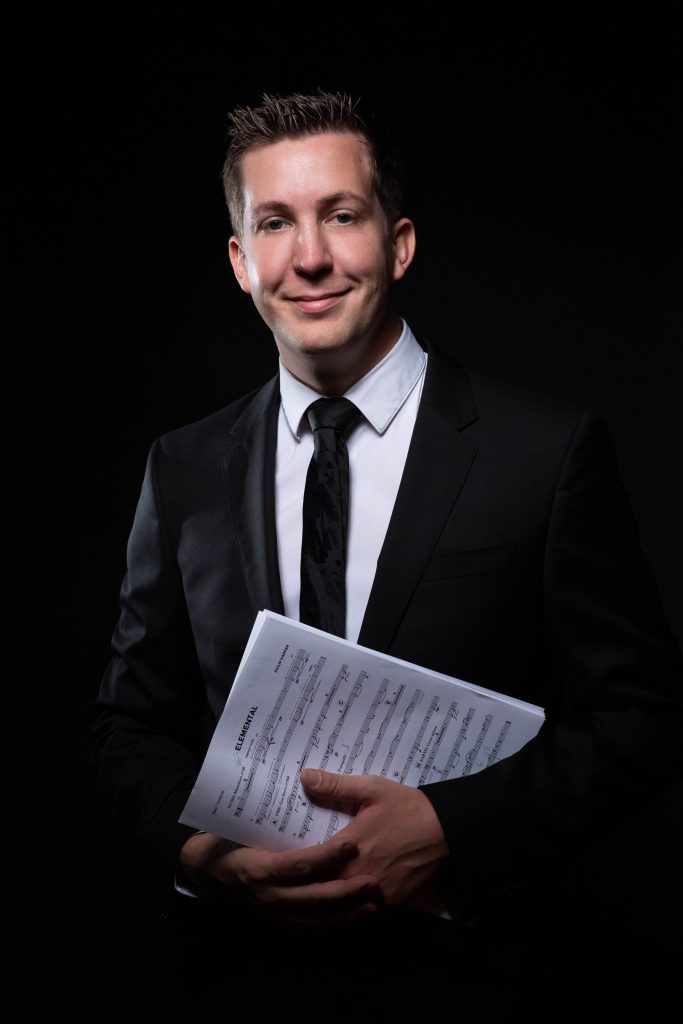 Laurent Douvre began his musical career by singing in a choir and playing percussion at the music conservatory of Mâcon where he is from. He continued his training by studying the trumpet, as well as the writing and analysis of musical compositions for which he received several diplomas from the regional conservatory of Chalon sur Saône.
After his literary baccalaureate (musical option), he continued to pursue a higher education at "Université Lyon II".
Passionate about conducting orchestras, in 2012 he created the "Ensemble de Cuivres Rhône-Alpes", for which is was awarded first place at the national competition of "Cournon d'Auvergne".
It was in 2011 that he joined the Music of Republican Guard in Paris, which has allowed him to deepen and expand his experience in conducting orchestras.
Since 2013 he has also been conducting the Brassage Wind Band and pursuing performances with a rich repertoire, and in 2017 the rise to the rank of "Honneur" of Confédération Musicale de France. In June 2019 the orchestra received the most prestigious award of the year in the highest division among French wind band.
Since 2016 he has conducted "Brassage Brass Band" and is pursuing the rise of this orchestra to be recognized as one of the five best in France.
With these, he is developing an approach to recording and film making, participating in many concerts, festivals and competitions, frequently winning awards.
He has also been developing his love of teaching, and to that end he is also in charge of the orchestras at the conservatory of Bagneux.
Laurent Douvre become musical director of Paris Police Concert Band in December 2018.
---
Florent Didier
Musical and artistic director from 2008 to 2020
Florent DIDIER belongs to this new generation of musicians open to diverse aesthetic and orchestral forms. A sensitive, passionate and complete conductor, who collaborates with Symphonic orchestras, Choirs, Brass Bands and Wind orchestras, and is ready to meet all audiences.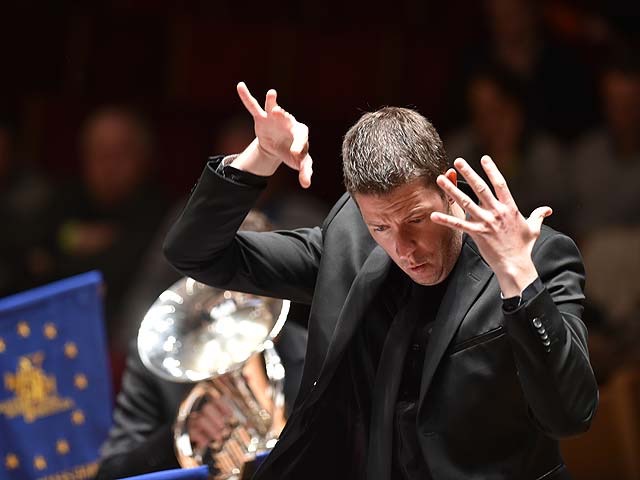 Musical and artistic director of the Paris Brass Band ; an orchestra composed of soloists from The Paris National Opera, The Republican Guard, The Orchestra of the Gardiens de la Paix, The French Army Airforce Band, and students from the CNSM of Paris and Lyon. Since 2008, Florent DIDIER has been conducting this group, which won a number of prizes : both the French Open and the French National Championships in 2012 ; National champion in 2013, 2014, 2015, 2016 and 2018 ; Paris Brass Band represented France to the European Brass Band Championships in the years 2013, 2014, 2015, 2016, 2017 and 2019 (Norway, Scotland, Germany, France, Belgium, Switzerland) and reached the best performance for a french ensemble in this international contest. Thanks to this international repute they can perform on the greatest European and Asian stages.
Florent is regularly asked to conduct different orchestras : the Symphonic Orchestra of the Interceltic Festival in Lorient, the Symphonic Wind Orchestra of Augsburg University's Leopold Mozart Center, The Symphonic Orchestra of the students COP of the CRR of Creteil, the Brass Ensemble of the Mulhouse Symphonic Orchestra, the Symphonic Orchestra "Melodix", the Concert Band and the Wind Band of the CRR of Creteil, Jaren Brass Band, the Brass Band of Bretagne Sud, Brass Band Exobrass, Brass Band of the CNSM of Lyon and many more. He often gives masterclasses as well as he helps professionals or amateurs during working sessions and is also a jury member at international and national contests : CNSM, Norway, England, Switzerland, Holland …
He works under the supervision or in collaboration with the following conductors : M.W Chung, J. Conlon, Y. Sado, P. Nahon, F. Gabel, P. Roullier, Dominique My, Laurence Equilbey, Lionel Bringuier …… in order to improve his practice in all repertoires. In the field of contemporary music, he takes part in the ensembles 2e2m, Ars Nova or Ensemble Fa and in the creation of music pieces by Schneider, Kagel, Natsuda, Cavanna, Fineberg, Murail, Dusapin, De La Fuente, Zwicker, Monnet, Luis Nahon, Combier, Ferrari, Serre, Moultaka and some others.
Recently he conducted at the Auditorium of Radio France leading both the Radio France Choir School and the Paris Brass Band. He has already conducted in other prestigious venues : Oslo Konserthus, Konzerthaus Freiburg, Bergen Grieghallen, Suwon SK Artrium Concert Hall, Perth Concert Hall, Chiayi City Concert Hall, Kursaal Oostende, Nouveau Siècle Lille. He was selected by Atso Almila (Sibelius Academy) and Maurice Hamers (Universität Augsburg) for the final sessions of the International Conductors Competition in Augsburg, Germany and will also conduct in Norway, Switzerland, China and South America in the coming months.
Trained as a trombonist, Florent DIDIER got the highest honours and national diplomas. He brilliantly got the European Music Prize for young soloists in Aix les Bains in 2001. Anxious to improve his musical qualifications, he kept studying at the same time and got a Master's Degree in Musicology, UFR Reims. He was awarded the prizes for orchestra conducting and music writing at the CRR of Reims. He joined the CNSMD of Paris and got there prizes for instruments and chamber music. He became a qualified Music Professor in June 2009 (Master Pedagogy Music Education), after training at the CNSMD of Lyon where he could improve his pedagogy.
A versatile artist, Florent DIDIER is a conductor, a coordinator and a professor. He is in charge of the orchestras of the CRR of Creteil, and he is the Principal Trombone of the French Airforce Band. He used to be a member of the Feeling Brass Quintet (a national and international prize winner ensemble). Florent takes part in performances at the Orchestre de Paris, the Paris National Opera, the Orchestre Philharmonique of Radio France, the ensembles Ars Nova, 2e2m, Ensemble Fa, the Chamber Orchestra of Moscow, the Prague Orchestra, Accentus… Florent takes part to numerous festivals in France and abroad : Germany, England, The Netherlands, Belgium, Lebanon, Algeria, Italy, Egypt, Switzerland, Austria, Spain, Israel, Norway, Taiwan, South Korea, China, Mexico. He accompanies or records with artists like : Michel Legrand, Vladimir Cosma, Yvan Cassar, Ibrahim Maalouf, Yaël Naïm, Vincent Delerm, Serge Lama, Florent Pagny.