PBB Musicians at Foden's Solo and Duet Contest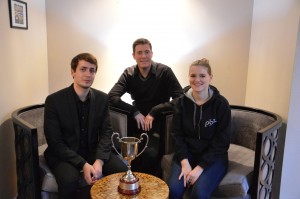 Last weekend of October, people from all over the world could think about England mostly because of sport events and Rugby World Cup final … Except that it was also a great moment for brass band community with famous Foden's Solo and Duet contest around Sandbach. Among the participants were two of our greatest musicians, Gaëlle and William, and here is their story as first ever Paris Brass Band representatives there!
Com PBB: Hi! Since you are pretty new with Paris Brass Band, can you explain who you are to people that don't know you yet?
Gaëlle: Gaëlle Lefèvre, 23 years-old. I play as 2nd cornet with Paris Brass Band since last september. I started to play the trumpet when I was 5 years-old. When I was 18, I got my French Baccalauréat and I start to play at Paris 13th Conservatoire with Clément Saunier (2010 to 2014). In 2014, I get in the COP (Professional Oriented Education) at CRD of Créteil with Alexis Demailly. I started to play in a brass band with Brassage Brass Band (First Section brass) in 2012 first as cornet and then as flugelhorn. And then my story with PBB started in 2015.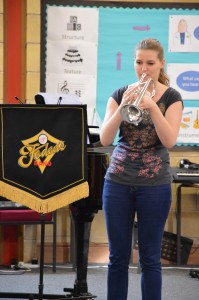 William: William Thébaudeau-Müller, I play 2nd trombone (sometimes even as a backup of the principal) for Paris Brass Band since February 2015. I started to play music at Noyon, before being a student in Frankfurt-Oder, Chartres, Troyes, Reims and Paris National Conservatoire for two years. I started to study Law and Management at University before that. My first experience in the brass band community was with Brass Band Départemental de l'Aisne when existing in 2007. Then I helped to launch Brass Band de l'Oise in 2013 and I'm the Director there now. Also, I played for Brass Band de Champagne for the season 2013-2014.
Com: Why did you choose the Foden's solo, duet contest? What were your expectations going there to Sandbach, on the territory of this famous band?
G: I decided to participate to the contest with Alexis Demailly's support because I'm really interested in being closer to what english brass band community has to offer. It was also a great challenge for me to participate to a contest abroad because of my fear to play as solo. Winning the contest Urban Play – Buffet Crampon that was held in Lorient Cuivres et Percussions de Larmor-Plage summer school in July 2015, Besson offered me to compete there.
W: Above all, I wanted to visit England since it was the first time for me there, and also being in contact with what English brass band as to offer (the way to play there is way different than what we learn in France). So my expectations were pretty simple: great holidays in music.
Com: What were you feelings about the day there ? Abut organization, your feelings about other contestants, or the public?                       
G: What a great organization! Many thanks to the Foden's musicians! There was a great atmosphere all day long, with people and contestants. Everyone was great to talk with, and there were big smiles and kindness everywhere.
W: Warming up was pretty difficult because the rooms were too small for te amount of people there. The organization was great except for a small issue for our duet because we asked for an accompanist but there was any so we had to adapt. Great atmosphere with all contestants, and the public was mainly families and passionates.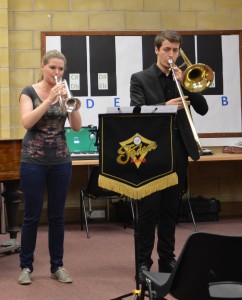 Com: How did you feel before the results? What were your hopes 
G: At noon, after my first piece for Slow Melody contest, the first results were out and I had a Third Prize! Amazing! Then you have to go back and the last results were out at the end of the day. William and I were hoping for a prize after our performance. Finally it's the First Prize! Just perfect. Eventually, the results for Air Varie. I was pretty satisfied with my performance. I could feel all the work I did during the training and that it was going to pay but I was also impressed with the level of the other contestants. I couldn't expect for a prize so when the Third and Second prizes were announced by Fiona, I was daydreaming somehow. But then my boyfriend Cédric Rossero said "It's you! It's for you!" So I came back there quickly and I was really happy! It was surreal for me!
W: Waiting for results is always tense, event if we were confident with our prestation for the duet. I felt that we played listening to each other, so…
Com: And what about after the results? What does that contest mean for you?
G:  Mr John Wallace gives me the trophy, and then I realize that I'll be going on tour in the United States as soloist with James Gourlay and the River City Brass Band in Pittsburgh… Frightening and exciting all the same time! Everything seems new, people are congratulating me! I don't were to put myself, it's a brand new adventure for me.
W: Really happy to end my holidays like this. I'm thrilled for Gaëlle who won the most important competition. I wish I will be able to compete again next year, perhaps participating to more competitions.
Com: So, what's your conclusion for this great contest, as a frenchie in Manchester?
G: It was simply amazing. Many thanks to William for our great duet "Gaeliam", to the Foden Brass Band, Buffet Group, pianists who were with us all day long. Thanks to Alexis Demailly for pushing me to participate, and thanks to Cédric who is always there. It will stay an incredible day.
W: We couldn't watch the Rugby World Cup final… (laugh) It was great to meet with great people, great experience for me and a conclusion: English people, young and less young, were there to have fun even if the musical level was pretty high. That what makes this kind of event so charming and more of a brass band family reunion than a contest.
So Gaëlle and William won the First Prize for their duet. Gaëlle won the Air Varie First Prize and a Third Prize for Slow Melody. Great day for our young musicians and for Paris Brass Band. Our director, Florent Didier, also adjudicated several competition during the week end. We are really proud of this success on England, one of the greatest brass band nation.